About SERVPRO of Waco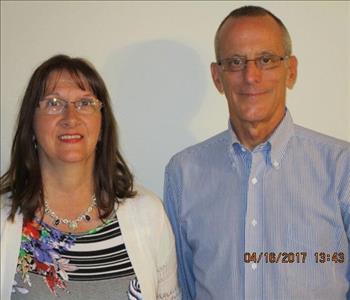 Roger & Teresa Bailey
Owners of SERVPRO of Waco
2001: A SERVPRO odyssey
Since 2001, SERVPRO of Waco has been helping folks with business and home emergency water damage, fire damage and storm damage restoration as well as mold remediation projects in the Waco area and through out Central Texas.
Our owner, Roger, has over 30 years experience serving businesses and home owner decision makers.
We are excellent at getting business owners/managers and home owners back to functionality in their home or business in a quick time frame, moving towards "Like it never even happened."
With 18 years + of experience and an outstanding, unbeaten record of customer service, you can trust the professionals at SERVPRO of Waco.
Establishing a plan and helping find a quick, calm path to deal with the situation is one of our strengths, as well as friendly, courteous service. We have even been known to help bring some light heartedness into the situation, especially after our service is under way and folks become confident things will be OK.
There is only one SERVPRO of Waco! Please call us today, even right now, if you need help with your property damage situation.
(254) 756-4300
Insurance and Payment Information
For a stress free claims process, SERVPRO works with your insurance to help manage the insurance process and paperwork.
We also accept the following credit cards for your convenience:



Certifications
ASD - Applied Structural Drying Technician
ECTP - Employee Certification Training Program
IICRC Certified Firm
RRRP - Lead-Based Paint Activities and Renovation
WRT - Water Damage Restoration Technician
Affiliations
Lakewood Christian Church